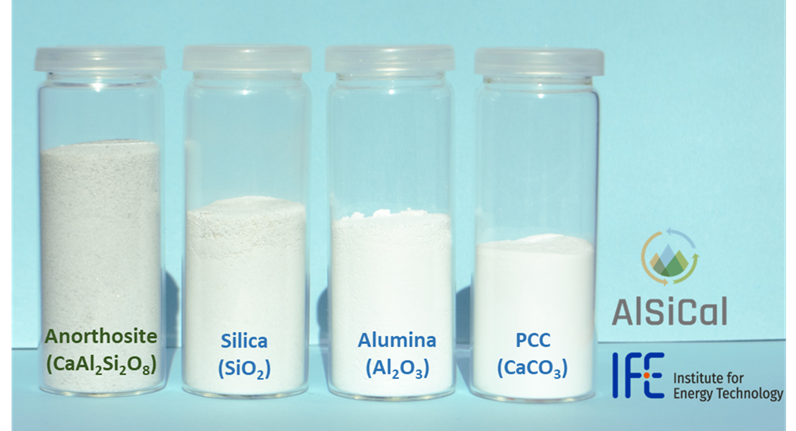 02 May 2023 / News
Important announcement: Game-changing technology for sustainable processing of anorthosite has been developed and validated at TRL4 by IFE
The products | The context and opportunity | Other important areas of work in the project
We are thrilled to announce that IFE has completed with outstanding results the validation of a new process: a unique technology to fully process anorthosite into three high-demand products, i.e. alumina, silica and precipitated calcium carbonate (PCC).
IFE´s new technology integrates CO2 utilization to produce PCC, for which it achieves negative CO2 emissions from the process when powered with renewables. Very importantly, it does not generate hazardous tailings, and aims at commercializing all the three main co-products to reach Zero-waste goals. European co-production of alumina, silica and PCC at the highest sustainability standards, using only one mineral as feedstock, is now one big step closer to become an industrial reality in the coming years. The process has an innovative configuration never tested before and has been fully developed during the AlSiCal project funded by the European Commission (www.alsical.eu).
We have produced alumina with purity and other key properties compatible with metallurgical grade quality, silica with highly promising characteristics for industrial applications and lastly, precipitated calcium carbonate with high purity and other favorable features. The validation and detailed study of all core process steps is a major milestone and has positioned the process for further upscaling. Importantly, we have acquired substantial new knowledge for optimizing and de-risking the technology development, and for tailoring the products´ properties towards different qualities. IFE is the sole proprietary of this new technology concept and is planning to bring it forward in collaboration with other stakeholders.
All the core steps of the technology have been proposed, optimized and validated at TRL4 (Technology Readiness Level 4) at IFE´s laboratories. The first process step – dissolution of the anorthosite – was also validated in 2022 at pilot scale, in a collaborative effort between IFE and Herøya Industrial Park.
The products
Anorthosite comprises mostly aluminium, calcium and silicon with some impurities. With the new technology, it can be transformed to ca. 50wt.% silica, 25%wt. alumina and 25wt% calcium carbonate.
Alumina. The experimental campaign for alumina production yielded excellent results at our laboratories. A new alumina production step was developed during the project, with improved efficiency compared to other state-of-the-art methods. The alumina obtained shows key properties compatible to those of commercial metallurgical grade alumina. Valuable knowledge has been acquired from this R&D work, which will allow upscaling and refining of the product to fully match industrial specifications for smelter grade alumina. Purity over 99%, key impurities like sodium and iron under threshold and other parameters within industrial specifications are proven. Therefore, we conclude that the alumina product from anorthosite is very promising and its physical and chemical properties are of a high standard for a production process that is yet to be industrialized.
Silica. This process generates amorphous silica. The silica production from anorthosite reaches close to 100% yield, and different production and purification methods can be applied to modify its final properties. During the project, we have gained valuable knowledge on how to modify the silica properties during the production process. We can achieve purities ranging from 85 to 95 % SiO2 (values over 90 wt% are generally obtained in standard operation conditions), varied porosity distribution and surface areas, normally ranging between 60 and 140 m2/g, and even up to 180 m2/g at special conditions. Having a good understanding of this process step gives the opportunity to increase the future commercial value of the silica. This is of great importance, given the considerable amount of silica produced from anorthosite. The new know-how acquired in the project will allow us to further refine its features and to expand the applications portfolio of the product in the future. More information about precipitated silica can be found here.
Precipitated Calcium Carbonate (PCC). For the first time, PCC has been produced directly from anorthosite in the frame of a complete process, going through all the core process steps from the mineral to the three products. Our technological solution integrates CO2 use to produce PCC at very efficient precipitation yields. Differently from former attempts, our new process does not rely on organic compounds for this step, which has simplified the technology.
PCC is a high-demand commodity material with many market applications like paper, paints and others. For IFE´s technology, producing PCC by injecting CO2 into the process gives a strong environmental advantage that makes it possible to achieve negative CO2 emissions from production ("CO2-sink technology") if the process is powered with renewable energy. In other words, CO2 originated by other industries will be used in our process to produce PCC.
In the PCC precipitation step we have reached high precipitation yield, purity values between 95 and 99+ wt%, with calcite crystal structure. The precipitation process step is also flexible for adapting the PCC properties for different applications.
The context and opportunity
Same old idea? Yes, so we have now an improved new process, and we are in a crucial historical moment!
The idea of producing alumina from alternative sources like anorthosite has been attempted several times in the past. Different technologies were proposed, and a few of them were even tested at pilot scale. But neither the processes proposed nor the historical context were favorable for their industrialization with few exceptions. The key motivation for developing this new technology is that it has become truly urgent to secure – and increase – the production of key materials in Europe, whilst reducing our environmental footprint. Therefore, we have developed this process with a new approach, overcoming former limitations to increase the chances for success and fulfill current environmental goals. More information about anorthosite can be found here and also in this article about the alternative source of aluminum production.
The fears… and the status. Any new attempt to develop a former idea can face some reluctancy: "Every time it was tried before it was too expensive", "it will be too energy demanding" and similar understandable concerns. Anorthosite processing can be non-competitive, some process configurations much more so than others. It would also be unsustainable if we only produced and commercialized part of the potential products (e.g. only alumina) and discarded a large part of the anorthosite value as waste. But numbers count, all of them! And they start to look promising when we consider all the three outputs from anorthosite as valuable products and compare our process needs and outputs – and the environmental advantages – to current technologies producing these same three products.
In addition, our concept brings large costs and risk-avoidance – economic, social and environmental – by not generating hazardous waste. It also unlocks strategic value creation, by enabling European production and full value-chains business. For example, managing bauxite residue (aka red mud) entails complex handling, has not fully developed 100% recycling technologies yet, has demanding needs for site remediation plans, and rises social concerns. Avoiding bauxite residue generation eliminates those challenges. For Europe, our concept would give the opportunity of reducing shipping costs and related emissions generated by bauxite and alumina imports from faraway countries (Europe imports 25 million tonnes/year of bauxite and 2,5 million tons/year of alumina to cover our current aluminium needs). Last but not least, we aim at providing large strategic value for Europe, by enabling secured domestic production of these three important raw materials. More information about bauxite management can be found here.
However, AlSiCal is a research and innovation project, we are still at small scale, and we must continue de-risking this technology to ensure future industrial success. The Consortium is now working on calculating the economic competitiveness of the technology, and advantages and possible drawbacks on the environmental and social aspects.
Soon the core question will be: Can we afford not doing it?
Other important areas of work in the project
In parallel with the process development, data from IFE has been transferred to the modelling partners (INPT and UNIZAR) for reactors and process modelling. The process modelling sets the basis for determining techno-economic, LCA and business case in collaboration with AdMiRIS and other partners in this last year of the project. Anorthosite resources worldwide and social aspects of anorthosite exploitation are also being assessed by the Consortium partners.
The AlSiCal project will continue innovating until its completion in February 2024. The overall goal is to propose the most competitive and environmentally friendly process for anorthosite transformation into valuable products, targeting zero-waste and zero-emissions goals. Our vision is that this innovation can be a door-opener for other new technologies emerging in the minerals and metals field, all necessary to mitigate our immense sustainability challenges. All efforts from society are necessary to ideate, develop and improve technologies for more sustainable growth. IFE and the AlSiCal Consortium are committed to contribute with cutting-edge innovation for a better future. We will continue investing all the necessary efforts to further evaluate and develop this opportunity!