AlSiCal will de-risk and develop a new technology under sustainability and efficiency principles. It will assess and quantify the techno-economic feasibility, the potential value creation for Europe, as well as the impact and risks of this technology upon three key sustainability pillars: economy, society and environment. AlSiCal will also set a roadmap for exploitation of the project results, to foster the later commercialization of the technology.
Targeted dissemination and communication actions will contribute to increasing social and industrial engagement for developing innovative sustainable technologies for mineral processing. AlSiCal will be performed by a balanced team of R&D and industrial partners representing the whole value chain.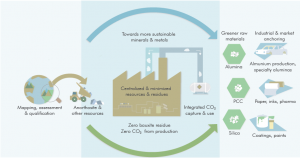 The project develops along the following four steps.
Step 1: New sources
Mapping, assessment and qualification of anorthosite and other alternative sources by our international team, considering worldwide options.
Step 2: Innovative process
This project will research and develop a ground-breaking technology. Intensive experimental work on leaching of the source, separation and purification of silica, production of alumina and production of PCC with integrated CO2 capture will be performed for optimizing the process. This project will verify at pilot scale part of the process, and will provide the basis for future upscaling of the technology as a whole.
Step 3: Integrated CO2 capture and utilization
The project will assess the integration of CO2 capture technology for those sites where renewable energy is not viable. The integration of CO2 capture with the AlSiCal process will benefit of energy and materials synergies. In addition, the AlSiCal technology uses CO2 within the process by design. That will represent negative CO2 balance where renewable energy is suitable (CO2 sink), or zero CO2 emissions from production where non-renewable energy is used.   
Step 4: Greener raw materials
One source, one location, one process leads to multiple expected benefits and minimized impact from co-production. The project includes techno-economic analysis, market and business considerations, Life Cycle Analysis and environmental and social risk & impact analysis to ensure that this technology is, in fact, a more sustainable way to produce these materials.