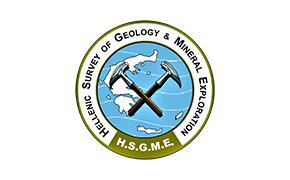 22 Nov 2019 / News
HELLENIC SURVEY OF GEOLOGY AND MINERAL EXPLORATION
Among its general objectives are:
To explore and study the country's geological structure
To locate and assess the mineral raw materials and geothermal fields
To develop the water resources of the Hellenic territory
Special emphasis is put on environmental protection and improvement of the quality of life. HSGME participates in several EU R&D programs, International and European Organisations and in EU and Regional projects co-financed by the Structural Funds.  It provides technical-material infrastructure and modern accredited laboratories (e.g. chemical – mineralogical analyses by means of ICP-OES, ICP-MS, SEM, XRD, TOC, environmental characterization – mineral ore processing  and technology  laboratories).