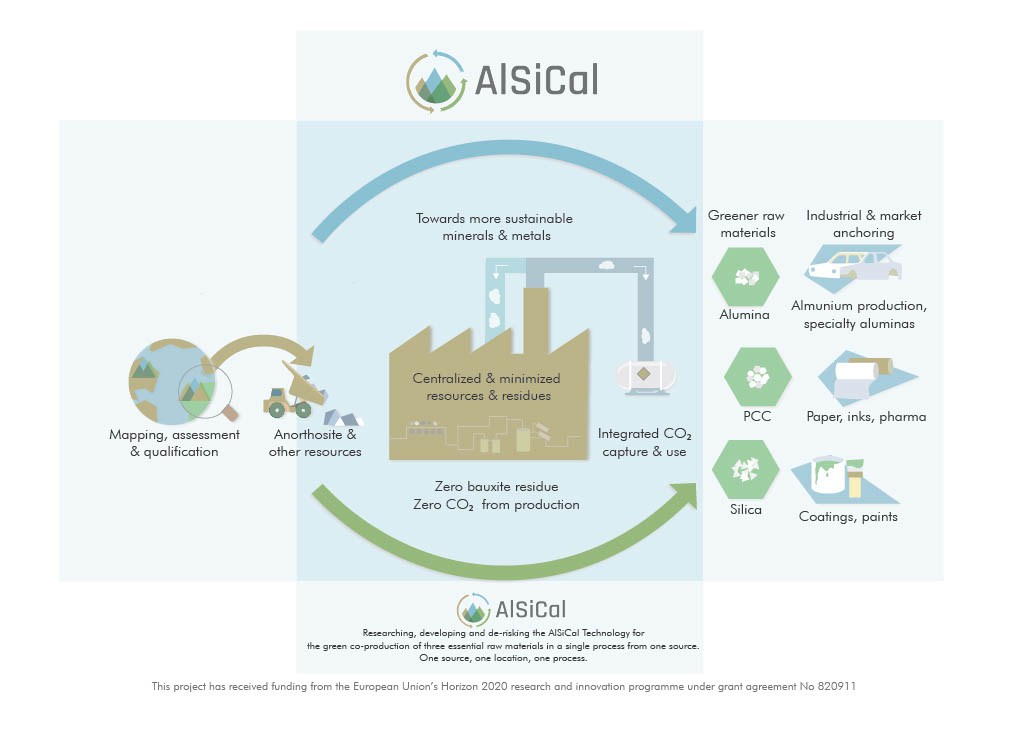 14 Nov 2023 / Event
Workshop 'Made in Europe raw materials: challenges and sustainable advancements'
14th of November 14:00 pm - 17:30 pm Hybrid or Brussels
On November 14th AlSiCal will organise a free (hybrid and on-site) workshop where you will gain a deeper understanding of the EU-funded AlSiCal technology. AlSiCal aims to co-produce three crucial raw materials: alumina, silica, and precipitated calcium carbonate. The workshop will emphasize the primary accomplishment of substantiating the concept's feasibility, propelling it towards higher Technology Readiness Levels (TRLs).
Goals of the event
Provide an overview of new technologies and challenges related to the minerals and metals industry, in particular those related to AlSiCal´s products (alumina/aluminium, silica/silicon and calcium carbonate value chains);
Position AlSiCal technology as a new supplementary route to the existing value chain, especially to the alumina value chains by addressing the challenges and opportunities of turning an unexploited domestic ore (anorthosite) into a resource for the alternative alumina production and boost symbiotic value chains cross sectorally;
Discuss different perspectives related to sustainability, stewardship, R&D situation and needs in the minerals industry as well as, challenges and roadmap for raw materials essential for the EU green transition;
Foster future synergies with academia and industry.
This event is organised by European Aluminium and PNO with the support of Institute for Energy Technology (IFE). This is a satellite event organised under the umbrella of the EU Raw Materials Week 2023.
The event will be hosted at DoubleTree Brussels Hilton Hotel in Brussels. Additionally, there is an option to participate in the event remotely. If you prefer this option, we will provide you with a link in advance of the event. 
Programme:
14:00-14:10 Welcome
Welcome by Martin Foss (Vice president, IFE) & Christian Leroy (Director Innovation, European Aluminium)
14:10-15:30 Session 1: "Unlocking the opportunities for the alternative production of raw materials in Europe"
Chair: Konstantinos Kollias, European Aluminium
• "EU Horizon Success Stories: an insight into innovative sustainable mineral processing solutions", Yolanda Alvarez Gallego, HaDEA
• "How sustainable co-production of alumina, silica, and precipitated calcium carbonate in one single route from alternative resources is feasible: Radical innovation from the EU AlSiCal project", Suni Aranda, IFE
• "Socially responsible approach to sustainable raw materials production: Learnings from EU AlSiCal project and global cases", Anne Merrild Hansen, AAU
• "Positioning AlSiCal into the current value chains", Anastasios Kladis, AdMiRIS
15:30-16:00 Networking coffee break
16:00-17:15 Panel Discussion: "The challenges of European sustainable growth in the raw materials industry"
Moderators: Kamila Slupek, Eurometaux
– Dr. Aurela Shtiza, IMA-Europe
– Dr. Peter Tom Jones, KU Leuven
17:15-17:25 Debrief & closure by  Christian Leroy, European Aluminium & Suni Aranda, IFE
Register
You are welcome to register to the workshop completing the online registration at the following link:
https://www.eventbrite.nl/e/720747032777?aff=oddtdtcreator
Please register before the 8th of November. (Registrations for online participation will stay open until the 14th)