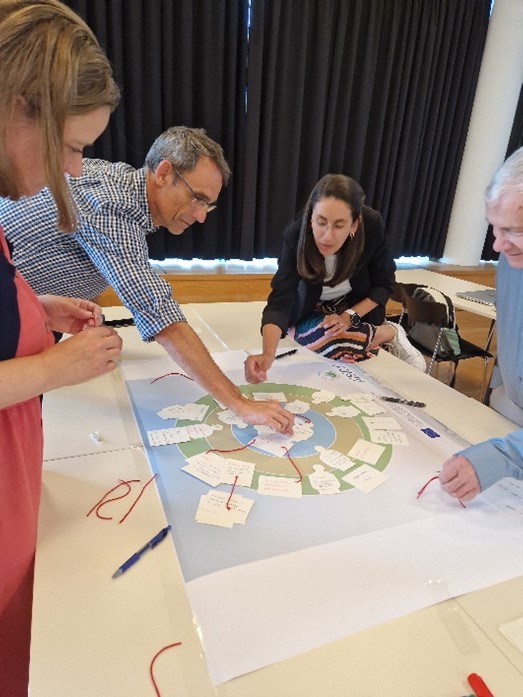 15 Jun 2023 / News
Holistic impact assessment of the AlSiCal technology
The 6th of June, AAU hosted a workshop for AlSiCal partners called "Exploring scenarios and sustainability towards pathways of change."
The aim of the workshop was to identify premises for wise management and sustainable  implementation of the AlSiCal technology, including:
Identification of showstoppers (the no-go´s or red flags)
Identification of mitigation measures and initiatives to enhance benefits from the implementation.
The workshop was divided into 3 parts shown below.

Although the approach was strategic and the implementation of the technology is still based on general considerations and not one specific geographic location and individual case, to facilitate the scenario analysis, a case in Norway was established. Each group began by identifying actors and factor important for the implementation of the AlSiCal technology. Then they ranked the relative importance of the actors and factors for the implementation of the AlSiCal technology. The connections between these actors and factors was then established.
In the second part, specific scenarios were identified and the effect on the actors was simulated. For example, what would happen if worldwide electricity prices skyrocket, the Bayer process became uncompetitive, or the market could not absorb the produced silica. How would this affect the implementation of the AlSiCal technology in Norway? Finally, a strategy to maximize sustainability was developed.
From these strategies, a number of recommendations was developed to achieve implementation of the AlSiCal technology in a way that  maximizes sustainability.
Recommendations:
Resilient green energy systems​ are a prerequisite for sustainable implementation of the technology.
Design infrastructure with multiple use​.
Pay attention to scaling of production.​
Secure local benefits (not only global) – consider investments in diversified economies.​
Promote and implement R&D in smart use of silica. ​
Ensure R&D on cleaner mining and refining.
A full report of the workshop will be published after the summer. If you have any questions on the workshop, contact the partners at Aalborg University: Sara Bjørn Aaen sara@plan.aau.dk and Anne Merrild Hansen merrild@plan.aau.dk.