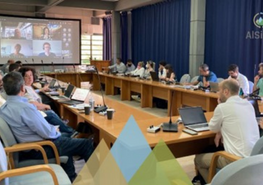 20 Oct 2022 / News
Consortium Meeting AlSiCal in Greece
Between the 1st and 2nd of June 2022, a new Consortium Meeting of AlSiCal took place in the European Cultural Center of Delphi, Greece, the first one in person after almost two years. It was hosted by Mytilineos, close to their alumina plant. The hybrid nature of the meeting allowed for collaboration and communication across project tasks.
Opening by Suni Aranda
Most of the partners attending in person met up at the Athens airport on the 31st of May and traveled together to Delphi. The meeting kicked off early on Wednesday morning, when Suni Aranda from IFE, and Project Coordinator of the AlSiCal project, presented the current status of the project and gave the floor to the Work Package leaders to share preliminary results and highlight the major achievements.
Work Package updates
Presentations from the first 4 work packages were scheduled for Wednesday. WP1- Anorthosite and other sources was presented by IFE, NTUA, and INPT. WP4- Silica from sustainable co-production of raw materials, presented by IFE, Elkem, and HiPark included promising results on the silica produced and possible use cases. WP2 on green alumina production, presented by IFE and INPT. Finally, WP3- Lowering carbon print: sustainable PCC production and acid recovery with integrated CO2 utilization was presented by IFE, AVLabs and INPT.
Visit to Mytilineos Plant
The day finalized with a visit to the Mytilineos Plant,  in operation since 1966. This plant is the only integrated aluminium producer in Europe that has all production and refining facilities positioned at one site: alumina refinery, smelter, anode plant, power plant, cast house, red mud filtration unit, and a port.
From the bauxite mines that are in the hills surrounding the plant, they process the bauxite into alumina. After that, it's turned into aluminium metal using the Bayer process, where bauxite residue is produced. Every year they process 1.4 million tons of Greek bauxite.